Stardust – 2 stars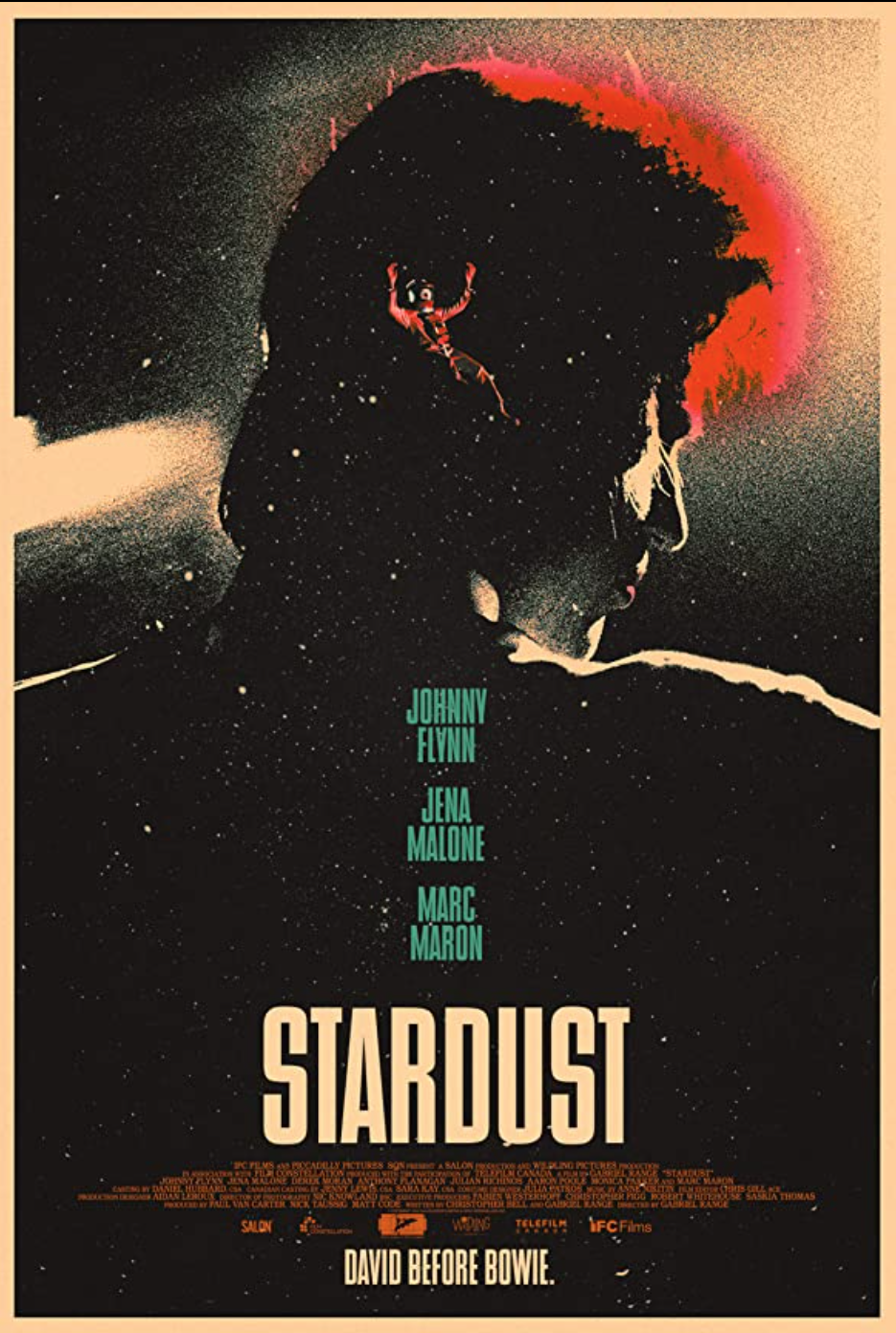 Prologue
Between lockdowns, on a rare day in the office, I watched the trailer for the Bowie biopic, Stardust, drop on Twitter. Reaction was… uh…
mixed
. And that was just the trailer. A few reviews already existed, as it had been shown at American film festivals in the spring, so I read them: all the young dudes carried the news, and the news was not good. I knew then that I didn't want to see it: I wanted to review it. In a display of entirely unearned confidence, I jumped up from my desk and followed the floor sticker arrows around to the desk of
Phil de Semlyen
, my colleague, the Global Head of Film at Time Out. I said, "Lovely Phil, how do you fancy letting me review the Bowie movie? Okay, I've never reviewed a film ever for any publication but I can do it, I think. And someone who knows the subject should do it anyway, so go on, let me! How hard can it be?" He said, "Sure, no problem. If I can do it anyone can!" Such a nice man.
Well, then. Slight panic. I did some research, made notes about technical things, then watched it on the
Raindance
website. Surely,
surely
, it was going to be better than early reviews said? Or, best-case scenario, those reviewers weren't Bowie people and didn't get it, and it would be filled with Easter eggs for the nerds. Why not? I'm an optimist by nature. Then I pressed play.
It became clear quite quickly that Stardust was, in fact, going to be even worse than the reviewers said. After about 15 minutes, hysteria set in; I couldn't stop laughing at how bad the dialogue was. Then another 15 minutes passed, the laughing ceased and I started to get annoyed, because it wasn't even bad in a good way. It was just terrible and humourless. And long. 109 minutes of my short life on this spinning rock I am never getting back.
But even if a film is profoundly bad, a review must be fair to the hundreds of people who worked hard on it. There is usually something to recommend it, to stop it from being a
one-star
. Stardust is not poorly made; the cinematography and other technical aspects are well rendered. But they alone can't make for an enjoyable watch.
Also, what I didn't entirely take in during that interminable viewing was the baffling decision to cast actors decades older than the people they're playing. Obviously I knew that Flynn was a dozen years too old (when filming took place, last year). But Jena Malone (35 playing 22) looks young. I hadn't given a thought to how old
Ron Oberman
must have been back then: he was 28, Marc Maron was 56. There was one scene with Bowie's manager, in which the character was so primly English I thought it was
Ken Pitt
(49 in 1971). It was not. That was supposed to be the charismatic, cigar-chewing Tony DeFries, who was 28 in 1971: the actor, Julian Richings, who looks like Pitt and looks nothing at all like DeFries, was 64. That was so unclear I thought it was a totally different person! And on it went with the Spiders: Ronson's actor was 42; Mick was 25. The guy playing Woody was 38; the drummer was 21. (Trev Bolder doesn't even get an IMDB listing)
Why on earth would casting directors take out the young, vigorous heart of a biopic and fill each role with actors all far too old? I had only noticed Flynn at the time – the rest made so little impression that their various levels of decrepitude must have passed me by. I don't believe the filmmakers didn't know how old these real people were: they chose not to care. That's the level of detail and commitment to reality we're talking about here.
Anyway, my review was well-received. People told me it made them not want to see the film.
The version below is 95% the same as the
original
. I have reinstated a couple of bits I felt were important and dropped back in a few extra details for colour. I've also added links to provide backstory, which isn't the style of TO's Film section but no harm in adding here.
I'm very proud that I was allowed to write this review and grateful that I am Time Out's person of record who gets to stand up to show and tell people what I know and think. This film won't affect Bowie's legacy or anyone's feelings towards him. The gifted people who understand, who love him, who have something to say that's carefully well-researched and cited, will continue to produce work about him that is credible and worth reading, watching and listening to.
_____________________________________________________________
Rock biopics that don't have rights to the artist's songs can work, as seen in England Is Mine (Morrissey) and Nowhere Boy (John Lennon) – but both were set in their subjects' late teens. In Stardust, we meet 24-year-old David Bowie (played by 36-year-old Johnny Flynn) in 1971. He's on his first US trip, promoting his Led Zeppelin-esque third album The Man Who Sold The World, presented here as a hard sell because he wore a dress on its cover (though Americans wouldn't have known this, as the US cover was an odd cowboy cartoon). You need to believe this young man becomes one of the greatest rock stars of all time. You won't.
The disastrous
Bohemian Rhapsody
was, by a (moustache) hair, saved by the music; no such luck here. Bowie's estate, it turns out wisely,
denied use
of his songs. Then a one-hit-wonder with Space Oddity, Bowie tries to behave like a star before he is one, but is written as a boring, pathetic, hippy rube who misses every opportunity his publicist (Marc Maron, always watchable) finds. How about a modicum of research? David Bowie was ruthless, camera-ready, bright and funny, with megawatt charisma and unshakeable self-belief. Here he's an unengaging wet failure, tortured by fear of succumbing to 'madness in the family'. The severe mental-health problems of his half-brother Terry, seen in flashbacks, are treated crassly. While his wife Angie (Jena Malone) is a hectoring presence that doesn't credit the significant contribution she made.
Flynn, who does a decent job singing songs that Bowie covered by
Jacques Brel
and
The Yardbirds
, works hard with a weak script. And Stardust does try to call some truthful Bowie bingo numbers: a song by one of his early heroes, '60s singer
Anthony Newley
, plays on the radio; there's a nice touch showing a recreation of his
screen test
at Warhol's Factory; we briefly experience the bizarre tale of Bowie spending an evening talking to Lou Reed only to find out later he'd met his replacement, Doug Yule (
according to Bowie's version of events he never knew but Yule says he explained Reed had left the Velvets months before)
; and he wears that dress for a hopeless
Rolling Stone
interview
– though the film erases his bisexuality, which is poor stuff. But this biopic can't sell the idea of his progression as a songwriter because it can't show us that he wrote Life on Mars and Changes around this time.
Ultimately, Stardust doesn't work on any level. Not having his original music means it can't truly let go, which makes this Bowie nothing close to the magnetic performer he was, despite a reasonable finale (with a Ziggy hairpiece that's the wrong colour and inaccurate make-up). Because the songs aren't here, his music is forced into becoming entirely unimportant, which is criminal. This film adds nothing interesting to his story. You'd be a great deal better off seeking out Todd Haynes's gorgeously camp, self-aware, fairytale Bowie biopic
Velvet Goldmine
– it's much more fun than this.