07/11/22 21:21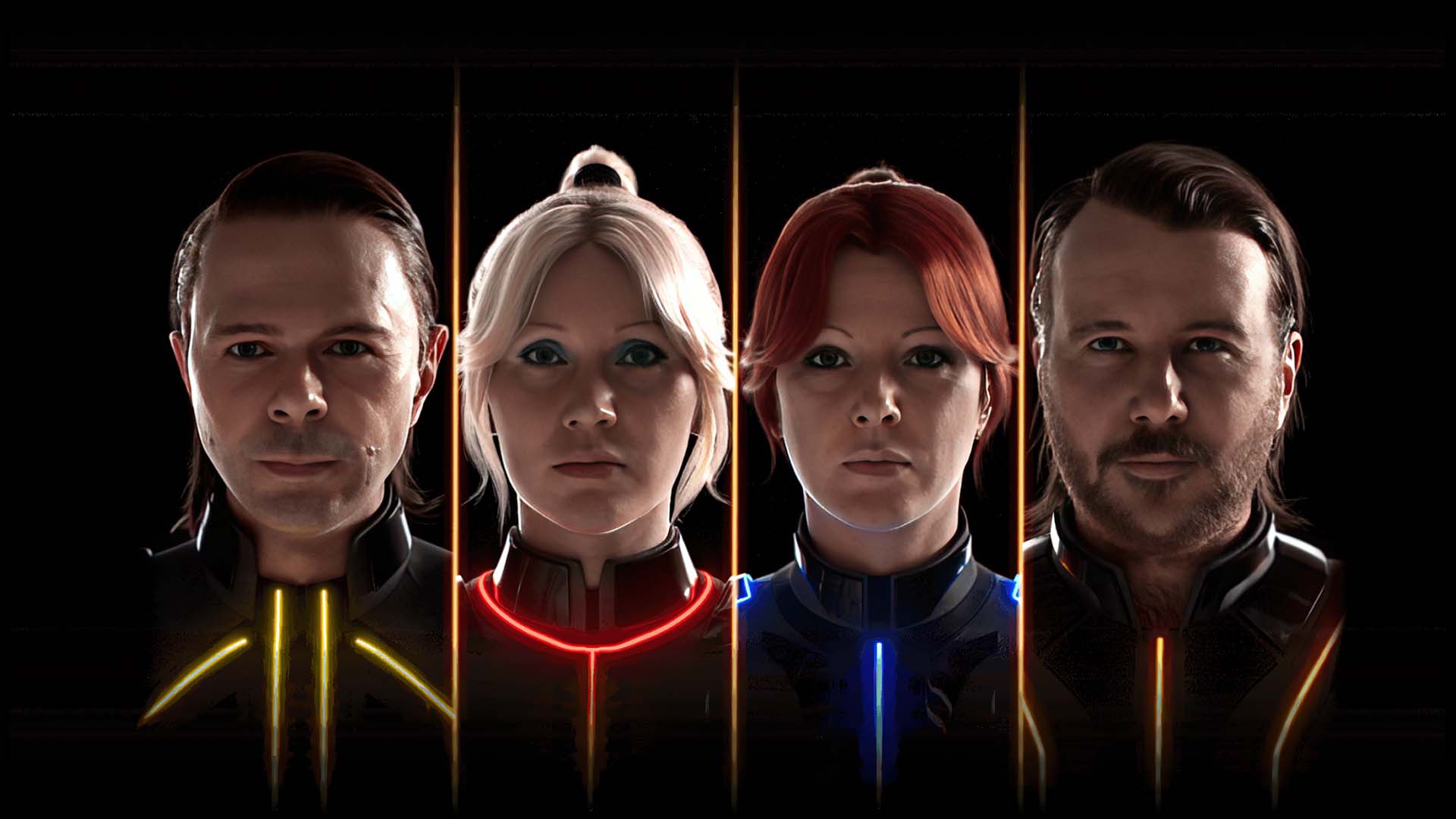 This review contains spoilers
"To be, or not to be? That is no longer the question," said Benny Andersson from Abba, last week, at one of the weirdest and most astonishing nights I've ever had watching a concert. God, it's hard to know where to start. Well, it started with a long, dark walk through one of the most grim areas of London. Stratford has been regenerated, incoherently, over the last couple of decades, with much of the new-build ugliness coming in the post-Olympics 'legacy' period of the last ten years with billions more in investment on the way. As it stands, what is there has no architectural consistency, style or substance. This part of E15 seems to contain only unsightly boxes in which to live. There is little sign of people, shops, restaurants, bars, cafés, community centres: life. If an alien landed there, they'd think, "Blimey, isn't London shit?" And perhaps part of the joy which followed that long, dark walk around the unlit bypasses (where I accidentally walked into a protruding metal bar, giving me a magnificently large and painful bruise on my arm) and bleak, community-free streets lived in contrast to this lifelessness because of it, not despite it. If the venue was in the middle of Leicester Square or a buzzing neighbourhood, it'd have already taken the edge off the technicolour shock that hits when you reach the 3,000-capacity, sustainably designed venue, as
collapsible as an Ikea flatpack cupboard
: boom, you are in a hen night. People are simply… happy. It feels like quite a few are not here for the first time. Some are in Abba cosplay, from glittered catsuits and feather boas to electric blue satin flares. The crowd spans generations. There are daughters with their mums; there are entire families out on a birthday trip; there are gay couples in matching outfits. It is adorable, a delight even before you go into the arena.
Abba, like many other artists who were successful in the 1960s or 1970s, endured a disrespected decade, in the UK at least, in the 1980s. From Dylan (the maligned Christian period; badly produced, average albums) and Bowie (Tin Machine; critical hatred which lasted until Glasto in 2000) to Neil Young (sued for not sounding enough like himself), McCartney (
Frog Chorus
; derision for his wife; the thumbs-up cringe, started by
Smash Hits
) and more, their legacies were not burnished by being in their thirties or forties; they were sneered at and called 'old'. Boomers' reps began their restoration in the 90s and the same happened to Abba, who were already into their mid-late twenties and on their second marriages when 1974's Eurovision breakthrough came. A fan's Google review of their 2021 album,
Voyage
, their first in 40 years, has as its first line: "I have been an Abba fan since way back when it was so uncool to love them." Björn Ulvaeus (the one who plays guitar; Benny is on keyboards) spoke to that, too,
in a Guardian interview last year
: "In the beginning of the 80s, when we stopped recording, it felt as though Abba was completely done, and there would be no more talk about it. It was actually dead. It was so uncool to like Abba."
The newfound appreciation back then usually came from a younger band who grew up with your music talking you up in interviews or covering your songs (in Bowie's case, Nirvana and NIN did the trick). In Abba's case, the beginning of their reappraisal was brought forth by the great British duo Erasure, who made similarly perfect pop music. Their four-track
Abba-esque
EP, released in June 1992, was a sensation in the UK, giving them their only number 1 record. It was the sound of that summer, a wonderfully queer package filled with glitter that was dropped right into your living room via
Top of the Pops
for weeks on end. Five months later,
Abba Gold
transformed the band back into what they always were: beloved creators of some of the best pop songs ever recorded. Erasure's covers and that album, which has sold 30 million copies and is on a par with Queen's
Greatest Hits
as the best singles collection ever released, hit people my age like the freshest songs we'd ever heard. Even my parents, no more the right age to be into Abba than I am, being the same age as the youngest member, Agnetha Fältskog, bought it.
Two years later, I fell in love with a wonderful Australian film,
The Adventures of Priscilla, Queen of the Desert
, which had Abba as a guiding light for the characters and was the second time I'd seen drag versions of Frida and Agnetha (the first being Erasure). The performance, by Guy Pearce and Hugo Weaving, of
Mamma Mia
, in the film's finale, knocked me off my feet like a lightning bolt. I didn't see Toni Collette and Rachel Griffiths doing the same in
Muriel's Wedding
until years later, but I know it had a similar effect at the time (the band have always had vast popularity in Australia). The final piece of the puzzle,
Mamma Mia!
, arrived in 1999 and has become one of the most successful musicals of all time. The two film versions of the story – a girl searches for her dad on a Greek island, set to their music – have between them made a billion dollars at the box office. There are also two other Abba-related events on in London right now – the long-running West End musical, of course, but also a restaurant, themed around the films, at The O2. While I have no interest in buying a ticket to either, I take great pleasure in how their music has become a soundtrack to pure joy, played endlessly at parties and weddings, fuelling warm nights out among friends. There is a Swedish concept,
lagom
, which has no direct translation, but roughly means "everything in moderation". Abba are wonderfully, vibrantly… anti-
lagom
. To attempt a technological transformation of their music and person, who else could do it first?
Abba Voyage
began with the chilly, electronic brilliance of the title track from 1981's
The Visitors
, a gutsy choice, given that it was the last album released before they split. And then… there they were. Sort of. Yes but no. My eyes blinked, my mouth dropped open. My ears were fine with the music of course, which sounds as punchy live as you'd hope: a ten-piece band, including three backing singers, work behind vocal stems from their live shows and original recordings (the band was put together by Klaxons' keyboardist James Righton). But what the actual fuck is going on here? Seriously. Your eyes can see these four figures near the back of the stage… and they look
real
. Staggeringly, confusingly real. That is, they look like mid-70s Abba, still young. The adjusting to the concept comes when you see them on the 65-million-pixel LED screens, which are raised and dropped as required, and wrap around half the arena in a half-moon shape, looking
uncanny valley
, video-game waxy. Okay, I get it. I adjusted my senses. And then it didn't matter, I fell into the video game, becoming immersed in the whole thing. It felt like forgetting the difference between 2D and 3D. Later on, some of the band and the three singers came out of their position stage-right to the front (where of course Abba cannot move to). I turned to Leah and said, only half-joking, "How do I know they're real?" This was a leap into retro-futurism that, even though I had been told plenty about the show by multiple people, I wasn't ready for.
Few bands have crafted pop songs as good as this.
SOS
,
Knowing Me, Knowing You
(reclaimed from its cheesy Partridge home),
Does Your Mother Know
,
Lay All Your Love on Me
,
Gimme! Gimme! Gimme!
,
Voulez-vous
… they kept coming. And the show could afford to leave bangers out, too. There was no
Super Trouper
,
Take a Chance On Me
,
Money Money Money
,
The Name of the Game
. It very much had a gig feel, rather than that of a theatre performance, a museum piece or a screening. Each member makes between-song speeches, which only hammers home the weirdness of this whole enterprise: it's young faces talking with old voices, because the sentiments are coming from the band as they are now, aged between 72 and 77. Before
Fernando
, Anni-Frid (Frida) Lyngstad talks about her grandmother. This makes me well up and I start thinking about my friend Ann-Charlotte, who is extremely dear to me. She is also a Swedish woman, born in Stockholm, and is around the same age as the band, with a sister called Neta (Agnetha). I thought of her, sitting at home in Gothenburg in her flat, of how much I miss her, of the Bowie shows we saw together. For decades, she worked as a ship's bursar on cruises: a real sailor. We have talked often of her parents and grandparents, of Sweden in the twentieth century. We talk about food and family. I'm lucky to be her friend.
After this relentless bombardment of pop perfection and incredible visuals, about half way through there was a smart moment that was very gig-like in its pacing. The band vanished as the screens fell for a couple of songs, set to a Studio Ghibli-style animation that had me gripped (and no doubt sent others to the bar). Near the end, another moment took me wonderfully out of the augmented reality computer game. The intro to
Waterloo
was a funny speech about how the UK gave their Eurovision-winning song
nul points
(how embarrassing), but was then surprisingly followed by the
faded, low-resolution, ESC performance
on the screens. In an instant, you saw how imperfect humans are. A bump on the nose here, a hair out of place there. The Abbatars (lol) are not like that, they are blemish-free, glassy beings, made better-looking than their subjects were, with more perfect teeth and skin and hair and bodies. This is how we all wish we looked, or how we thought we looked in our twenties. But we were not that flawless, we were just as real as that
Waterloo
clip.
Abba Voyage
, being watched in the present day with our young lives in the past, replaced by that adulthood-bill-paying-body-aching-losing-a-parent-reality, makes you feel that you can remain young forever. Everyone there felt it, even if you weren't old or young enough to be an Abba fan first time around, as I wasn't. It's not even really about the band. It's about you, about applying what you're seeing to yourself. It became about what you've lost, how innocent you were back then, your self-vision being yours to remake and be wistful, and perhaps a little inaccurate, about. The real imperfections of your human face and body, ironed away just for one night.
The last song is the heartbreak of all heartbreaks,
The Winner Takes it All
, the pinnacle of the band's emotional core. That song is a lot. Björn wrote it about his divorce from Agnetha and she sings it. What it must have taken to do that, can you imagine? "
Building me a home / Thinking I'd be strong there / But I was a fool / Playing by the rules… Somewhere deep inside / You must know I miss you / But what can I say? / Rules must be obeyed
". That song is too much. Too many people think Abba are superficial, the embodiment of music that electric blue satin flares and silver-glittered platform heels are worn to, but these are serious musicians. There is magic in the marriage of Benny and Björn's songwriting and out-of-this-world production, and their ex-wives' incredible, dovetailing voices. In the post-split years, another thing that happened was the withdrawal from the public eye of Agnetha and Frida, leaving the men to sell everything from their majestic score to
Chess
to
Mamma Mia!
. The stage has been half-empty for a long time.
Abba Voyage
returns half of that credit where it belongs, to the women who sell those deathless songs. We now recognise how often women are denied their due in music, so it is a particular joy that the show makes clear the stars are Frida and Agnetha; it's about their reclamation of self, their reclamation of the stage, their stunning chemistry, their return to the public's mind after four decades of their ex-husbands doing all that talking and leading (to this day: they did not wish to do any promo duties for the album last year).
At the end of the show, as the wooden venue still bounces with the party, the young Abba take their bow. And then… the band as they look now appear and basically everyone lost it. A wave of irresistibly manipulative emotion swept across me. On press night, a third version came out on stage, the actual real-life flesh-and-blood Abba. That would definitely be too much! But this appearance of the virtual four in their seventies brings home that
Abba Voyage
is about the passing of time and the beauty and immortality of music. This show could play in a thousand years just the same. The difference now, and it is crucial, is that it has been created while the members are still alive. It is not ghoulish to watch, like those appalling hologram gigs, which
Abba Voyage
is miles away from because this tech is universes ahead. But it's not about tech. They are in control of their legacy and that is their privilege. It simply could not have worked without the artists being available to
put on motion-capture suits
, surrounded by 160 cameras, perform the show in entirety and use that as the base to create this spectacle on top of.
The estates of dead rock stars are checking their bank accounts as we speak, trying to figure out if they can do this. Not everyone has Abba's eye for detail or creative control, or their deep pockets, as the show has to make £140 million to break even, and it will make a lot more than that in the end. Certainly, the rich estates of dead artists – MJ or Elvis or Freddie Mercury – would happily hire an impersonator of approximately the right size, choreographed to get the moves right. But that does not solve the problem of the face. A face-cast mask, think Bowie's in
Cracked Actor
, won't do it. An impersonator can't do it. You cannot de-age a face if you have no access to… well, not to be morbid, but… their skull. Can't do it. "Capturing every mannerism, every emotion, that becomes the great magic of this endeavour. It is not a version of, or a copy of, or four people pretending to be Abba. It is actually them," said Ludvig Andersson, one of the show's three main producers (the
others being
Svana Gisla and music video director Baillie Walsh, with the tech wizards at George Lucas's ILM doing the thousands of hours of work to bring it all together). The creative director of the project, incidentally, is none other than
fellow Swede Johan Renck
, who directed the videos for
Blackstar
and
Lazarus
. But if it'll be difficult for late singers to go on their own voyage, there is no doubt that living artists like the Stones or Elton or McCartney, who definitely can afford it, will be hiring those suits any day now. I thought about Bowie, because his estate has money and no soul, and I bet they'll find a way to have a go. It'd be Ziggy, because people are basic, but I did allow myself a moment to imagine going again to my show, 2003-04's
Reality Tour
. What would it feel like? Like time-travelling, I suppose, something acknowledged by Benny at the start when he made reference to the show being like having their own Tardis. You wonder if one day there'll be tech that lets the projection, or whatever it is, move around more. That would be wild.
Surreal is an overused word. But I couldn't get over the details. You can see their pores, the swishing of their lavish costumes (made by Dolce and Gabbana,
among others
, in a more tailored and modern imitation of their 70s style), the hair on Benny's chest. It's all perfect by design.
Abba Voyage
is the coolest thing, by some distance, a pop group has ever done. The band will never get tired, or any older, or split up (again). It's a bizarre combo of something that is glassily perfect, but somehow has mountains of soul and chemistry, being smashed together with timeless music. And they've managed to do all this without ads, corporate sponsors and branding, which is hugely refreshing. The show can travel on its own, sustainably, with its only partner, a shipping company called
Oceanbird
. But I hope it stays in London for as long as possible, because seeing it again is in my future.
The naïve part of me hopes
Abba Voyage
does not lead to a
Black Mirror
-ish dystopia and become the sole future of live music, for heritage acts or otherwise, that its tech is used carefully, with integrity, but we know this won't happen. It doesn't matter. Abba did it first and I can't see anyone else doing it better. This exciting, ridiculous, innovative, psychedelic show will never be equalled. It took my breath away.