18/07/05 19:34 Filed in:
Gigs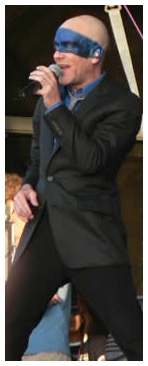 I can't remember ever not caring this much about gig placement. Normally I've been very keen to get close to the front, for the dual reasons of poor eyesight and better atmosphere. This time I just wanted to enjoy the day without worrying. I didn't have a Gold Circle ticket anyway so it wasn't possible to get near.

I can't believe REM are this popular!! It's extraordinary. Even if 90% of the 50,000+ were there to hear Losing My Religion and other songs they know from the last decade that's still a positive statement that a great band who haven't sold out or dumbed down can be appreciated by the masses. I was miles away, further than I've ever been for a gig I think but I just got into it in my own way.

The start was blistering, new song Bad Day followed by Kenneth and Drive. The new material was warmly, rather than ecstatically, received and there was a mid concert lull of a sort; the band have made 14 albums and there's plenty of material to choose from. I did feel that there was too much of a weight towards recent (1990s) material and not nearly enough older songs. I love the 1990s album Hi-Fi as much as 1987's Document but a little more balance would have been better. Although, Sitting Still from 1983's debut Murmur was a surprise and a pleasure to hear!

Stipe has become a consummate frontman, the kind he never was. He used to shuffle onto the stage, concentrating hard on the delivery and would only occasionally let go and release his energy. Now he does it all the time. In the last 3 years he has seemed happier on stage than in the previous 20! His voice is flawless, as always. An unexpected treat was the guest appearance of Patti Smith for their duet on Hi-Fi's lead single, E-Bow The Letter. Initial problems with her microphone led to a touching moment when Michael sang with her into his, working, mic. Another moment, as the gorgeous Nightswimming finished, was shared with bass player Mike Mills. As he finished playing piano, Michael sat above him on the top of the instrument and gazed adoringly at him before giving him a kiss to end the song.

Peter Buck was solid, as head-down muso as ever, but without fuss. He doesn't need to show off on the guitar, he never has. At the end Peter and Mike carried a beaming, shirtless, Stipe off the stage on their shoulders. This was the last gig of the tour, this band go from strength to strength and I won't leave it 6 years until I see them again.


Bad Day
What's the Frequency, Kenneth?
The One I Love
Drive
The Outsiders
Sitting Still
Wanderlust
Animal
Leaving New York
Everybody Hurts
Electron Blue
Me In Honey
Electrolite
So Fast So Numb
E-Bow The Letter (with Patti Smith)
Final Straw
Orange Crush
Walk Unafraid
Losing My Religion
(encore)
Imitation of Life
The Great Beyond
Nightswimming
It's The End of the World As We Know It (And I Feel Fine)
I'm Gonna DJ
Man On The Moon

...