14/04/09 18:03 Filed in:
Gigs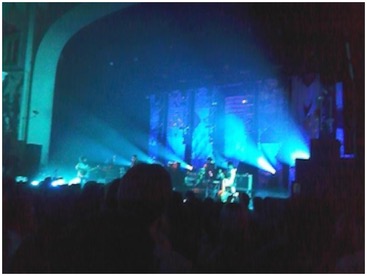 I read the other day that 'bands get the fans they deserve'. Of course this was on a Morrissey board and who else could come up with something so misanthropic? But as I scanned Brixton Academy last night I realised that this might be true, as some fans do seem to resemble the band they have come to see. This is nothing particularly new. At Bowie gigs in the 70s the audience paid their tributes with red mullets and lightning bolts. Madonna's 80s shows were full of Desperately Seeking Susan wannabes. Metal shows have always been like this, once you couldn't move for band shirts and long hair and now it's endless tattoos on and offstage. Indeed, at Glasto recently I watched Bat For Lashes and couldn't help notice the glitter-eyed girls with long bandanas showing their Natasha worship. And so to last night, the audience was awash with black-rimmed glasses and both neatly trimmed and wild beards, reflecting livewire singer Tunde Adebimpe, always modestly charming, and Jerry Garcia lookalike bassist/guitarist Kyp Malone, respectively. And I hadn't seen so much flannel since the video of Even Flow.

Support band Noisettes were pleasant enough. A good sound and undeniably powerful vocals partially masked that they have only two decent songs in their possession and one of those, due to over-saturation, has become fairly annoying. As stage time approached I realised this was how gigs should be; hot, packed and brimming with anticipation. I cast my eye to the staggering array of equipment and instruments on stage. With five band members plus two additional musicians - saxophonist and sample/keyboard tweaker - this band meant business. Entering to a rapturous howl the band started with the gentle Love Dog, from most recent album Dear Science. A late convert to TVOTR I had only owned the album, released last September, for a few months but it had made a late break for my album of 2008, a spot previously held by Fleet Foxes. It's a perfect pop record, the like of which I haven't heard in years. I was gratified to hear most of it live, along with choice cuts from their first two albums. Before they hit this vein of pop the band were fairly noisy and discordant in places, in comparison anyway. This accidentally suited the venue's sound, more of which later.

Musical collectives like TVOTR (and indeed Arcade Fire) give you something extra on stage. Your eyes dart across each performer, alighting on a viciously passionate drummer, a high jumping guitarist, a headbanging keyboard player or a charismatic bassist singing his heart out. I was overwhelmed by the energy on stage, from producer/guitarist David Sitek's head down hard playing; the wind chimes attached to his guitar head swinging furiously, drummer Jaleel Bunton's muscular rhythms, serene but cheekily cool guitarist Malone, who hit the show's high point by singing the brilliant Red Dress, and the jumping bean leader Tunde. All this while Gerard Smith, on bass/keyboards, lurked at the back of the stage getting the job done and saxophonist Martin Perna blew and flailed as if his life depended on it. Their audience already know these songs will become classics and are just waiting for everyone else to catch up. It's testament to how good this band are that they beat the sound, which, it must be said, was probably the worst I have heard at a London gig.

Brixton Academy used to engineer some of the best live sounds in London. Around five years ago a new system was installed and it's been downhill ever since. I've seen countless gigs here and been disappointed each time. Any band that has complex sound needs should really play somewhere else. Metal doesn't fare too badly, as it goes, since the NIN show I saw here was outstanding. But last night it was unbearable. They may as well have left the guitar and bass at home for all you could hear them. The voices did sound good, no complaint there. Other than that it was like listening in submerged water, as a wall of noise came at you. It was just a mud of a sound, surely the worst at any venue in London. It reminded me why I wisely choose to avoid the place when possible. Even so, a great band will defeat the sound system and TVOTR were irresistible.

This band overflow with ideas. There's lyrically dark pop like Bowie at his best, disco, punk, bits of Afro beat, a Prince-like meld of funky drums and voice, touches of jazz, even prog: this is the sound of a band at the top of their game. Most bands can't achieve in their whole careers what these Brooklynites have done with only three albums. They are refreshing, in a world of agendas. There are no gimmicks, just great music. You dance and they evolve right in front of your eyes into, the often-made comparison, the American Radiohead. Give them a few years, more good records under their belt, a decent sound system and the world is theirs.
...