Morrissey, Alexandra Palace, London, 01-05-06
01/05/06 19:27 Filed in:
Gigs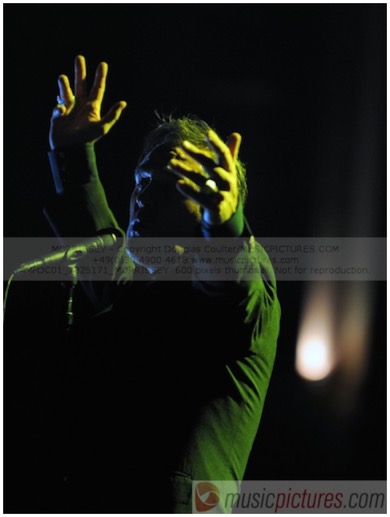 This is one of those reviews where you don't quite know where to start. I should first say that I am from Manchester so Morrissey has always felt a little closer to me. His essence is so Mancunian, he has that languid sardonic way of looking at everything that's very familiar to me. I should also say that I've never been an obsessive fan of his, though I could always understand why people were. His music, his ideas lend themselves to obsession. This was my first time seeing him live so as Leah, who had already seen him three times, and I walked up the steps of Alexandra Palace I felt somewhat of a fraud.

Sometimes an album calls to you, demanding you buy it. You just know somehow it will have something life changing about it. I haven't felt this way about an album since Heathen. And Ringleader of the Tormentors hasn't been out of my CD player for the last two weeks - somewhat helpfully since half of last nights 18 song set list was culled from the album. The studio arrangements lend themselves to live performance and this current band, with older members and new, lends itself perfectly. I wouldn't have cared if he'd walked on and performed the new record in entirety and not a Smiths tune. Not that I don't love The Smiths but I'm not one of those people who harps on about old classic records or shouts out song titles or gets disappointed if certain songs aren't played.

Somewhat surreally, Kristeen Young kicked off the evening's entertainment. We had found a great spot on the barrier on the left with a superb view the venue was still light inside due to the glass roof and it wasn't even half full when she came on at 7.15. The sound was superb and you could hear every word. It suddenly dawned on me that I had probably never heard KY get to use either a proper drum kit or a top of the line sound system. Her voice soared through the venue and after a few songs the modest applause grew. I've never been sure of those songs where her voice has a slight Yoko tinge to it, its probably not the best way to introduce yourself to several thousand potential new fans. Being behind a keyboard allows a certain amount of hiding and covers up some nervousness I thought KY was really at her best when she came out from behind the keyboard and took it to the crowd a little more. It was a strange feeling knowing the person on stage, wanting her to do well and wishing everyone would be responsive and overall I thought it went very well.

Second support act, Scottish band Sons and Daughters had a couple of interesting moments but were on the whole rather dull. If I never heard a band that sound like Joy Division again it would be too soon.

In between the bands this classical music had been playing. At first the novelty was interesting but then the Chopin started to grate. The oddest choice of warm up music since I went to see James Brown and he used his own records but at least that got the crowd going. I assume the Stretford lad wanted to create a rarefied atmosphere given the sedate Italian themes everywhere from the drum riser to the crew passes. Before he came on a different tape started with some strange old show tunes, including a folky song, a famous song in Australia, about a pub with no beer.

The lights vanished, the crowd roared and the intro tape started. At this point of the review I realised I had to take a look at the set list. I dropped by a site, Morrissey Solo, and was overcome by the whinging and bitching. They make this site look like amateurs. I guess that the bar has been raised so high by Morrissey in the past that anything below perfection is something to complain about. They never stop complaints about the sound (which was flawless), lack of screens (fair point), set list (perfect, for me anyway) and huge resentment of newer fans.

Having peeked at several set lists I pretty much knew what was coming he's playing almost every night so the sets are under 20 songs, just under 90 mins. I was ready for that. First of the Gang to Die, Still Ill and You Have Killed Me kicked off the show the latter with a nice and cheeky Tony Visconti is me lyric.

We were already out of breath; he was prowling the stage, snapping his mic lead like a circus ringmaster trying to control lions. All the moves were there. I was starting to reach a higher state, how could I have not seen him live all these years? The shows I've been missing…

The set was very Ringleader heavy which suited me just fine. New single The Youngest was the Most Loved and an even newer B-side called Ganglord were up next the new songs were very well received on the whole I thought. He stalked from side to side of the stage and must have noticed who knew the words to the new stuff since he came over and sang rather directly at us, in that way Bowie does, making you feel like he's singing to you. More new songs, a six song burst of them To Me You Are a Work of Art (at this point a security guard came over and asked what song it was and then offered to give us his setlist after the show.), then At Last I am Born and On The Streets I Ran. I love these songs on the album but live they take on another personality. He slipped in the sweet Let Me Kiss You from Quarry in between more Ringleaders - these songs are huge, the band make it sound like they're each playing two instruments and in the case of Far Off Places they take on an almost Zeppelin-esque power.

After Still Ill, from the first Smiths album, I wasn't sure if there'd be any other Smiths tunes though I did have my suspicions after keeping my eye on the last few setlists. Even though I wouldn't have been disappointed one jot to not hear a single Smiths song it was really quite lovely to hear Girlfriend in a Coma next. But then came the show highlight.

I knew it would be this way. I knew that Life is a Pigsty would blow me off my feet. It's my current favourite track off Ringleader. The version of it last night was indescribable. I don't mean to be flippant but it was like one of those higher moments, a rapture akin to hearing Station to Station live. With timpani and Boz on water filled glasses and Morrissey's perfect voice every word wrapped around me as every smash of the cymbals lifted me off the ground. Music so rarely provides those divine moments that when it comes along you know it, you can feel it. After that I needed a break and it came in the form of one of the only songs I wasn't familiar with, Trouble Loves Me from Maladjusted. It was sung with such passion and heart, lovely song. A couple more cracking new tracks followed, again taking on vibrant new life when played live. And then the opening chord from How Soon is Now? Rang out. He has been playing this but Id forgotten about it. I never thought I would hear that song live. There's a hell of a lot of Smiths songs out there, dozens of classics but this one was a good choice. A communal experience, the crowd lifted the song higher. Leah and I were of course beside ourselves at this point. And then off his shirt came and it was thrown to the crowd and then it was over. Exhausted and breathless we just looked at each other, the gig had flown by in what seemed like minutes. He ran back on to do Irish Blood, English Heart and then he was gone. I've seen some charismatic performers in my time, ones who hold the attention of everyone in the room but Morrissey is on another level. Still buzzing we gratefully took the abbreviated set list from the kind bouncer and strolled, with big grins on our faces, out of the venue. Alexandra Palace is high up on a hill, you can see much of London from the grassy verges next to the buildings. We sat and had a joint, peacefully, happily, with smiles on our faces and our ears ringing. It was a perfect night ending just like wed planned. Before we went to get the bus we were sitting on the grass, it was quiet all around. A woman appeared from nowhere she came from behind us and leapt joyfully around the hill with her arms raised in joy, screaming about her love for Morrissey. She got to the bottom and turned around and we raised our arms too, our cheers were taken away on the breeze. We exchanged happy grins, there it was, the effect that he has on people. I've had my epiphany. I wonder how much Palladium tickets are on Ebay.



First Of The Gang To Die
Still Ill
You Have Killed Me
The Youngest Was The Most Loved
Gang Lord
To Me You Are A Work Of Art
At Last I Am Born
On The Streets I Ran
Let Me Kiss You
I Will See You In Far Off Places
Girlfriend In A Coma
Life Is A Pigsty
Trouble Loves Me (Intro: Maybe Its Because I'm A Londoner)
In The Future When Alls Well
I Just Want To See The Boy Happy
How Soon Is Now?
Encore: Irish Blood, English Heart