27/06/09 18:17 Filed in:
Gigs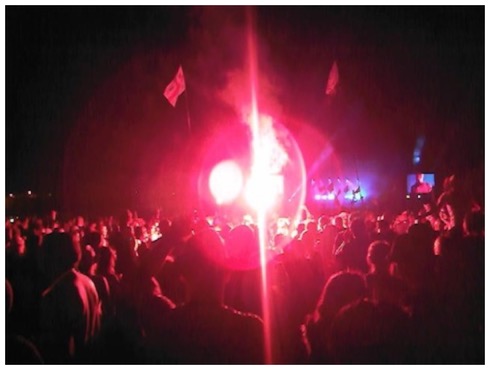 The blazing sun forced me out of my tent earlier than I would have liked but the mud was now dry and so off came the wellies and I was ready to race to the next gig, by now very much in the swing of things. First up was Canadian pop in the form of the surprisingly excellent METRIC before a slow trek in the heat over to the Pyramid to see some proper legends – SPINAL TAP. I confess, I enjoyed this gig a little too much. They would be acclaimed as great musicians were they not, well, what they are. It was a tremendous show, full of humour and genuinely good songs. In theory it simply shouldn't work - three middle aged actors in eyeliner and wigs - but there is so much good feeling and affection toward them that it became the best day performance I'd seen thus far. You can't beat tunes like Big Bottom (with Jarvis Cocker adding yet more bass) and Sex Farm and, inevitably, the highlight was a brilliant Stonehenge as they were joined on stage by a sagging inflatable miniature monument and two midgets dressed as Druids. Unbeatable.

Around that time we realised we couldn't remember the last time we'd eaten, so returned to a tried and trusted food outlet by the John Peel Stage. I must say that the food at Glasto is flawless and hugely varied, a million miles away from standard greasy burger festival fare and more than accommodating to everyone's tastes, including vegetarians like me. While having a little rest with our food we overheard a band that had recently headlined the Camden Crawl called HOCKEY. They came across to me as utterly average so we left, just as New Jersey's GASLIGHT ANTHEM were starting, to get back in time for CROSBY, STILLS & NASH. Perhaps we should have given them a chance - Springsteen joined them on stage for a song, to the utter frenzy of the crowd. Lead singer Brian Fallon returned the favour and appeared on stage with Bruce later on. I might say a Glasto regret is rare but not sticking around for the Gaslight Anthem counts as one.

Mind you, I had been very much looking forward to CSN, being a longtime fan I knew they would put me in hippy heaven. What felt like a sparse crowd were treated to some genuinely legendary songs - Long Time Gone, Wooden Ships, For What It's Worth (originally by Stills' - and indeed Neil Young's - first band Buffalo Springfield), Almost Cut My Hair, Military Madness, Marrakesh Express, Guinnevere and even a tender cover of Ruby Tuesday. Even without the iconic Suite: Judy Blue Eyes, which they had performed at only their second ever gig, Woodstock, being played It was a lovely performance from a band who truly embody the spirit and politics of the festival.

Having been underwhelmed by KASABIAN at Oasis' Heaton Park gig recently I wasn't excited to see them again but I must say, I wrote them off too early. They turned in a masterful performance, which I couldn't help but enjoy. I still think they write a lot of filler but they seem to be improving now, after stalling with Empire. However, while it was an undeniably good show, they couldn't avoid being the forgettable warm up compared to the main event, The Boss. I just never got it, what his fans go on about, until a few months ago. My parents, avid fans, had always insisted of his genius as a live performer. So I bought a DVD before the event to see what all the fuss was about and that was it, I saw the light. And thus, it became, for me, the most anticipated performance of the festival - BRUCE SPRINGSTEEN and the earth shaking, history making, Viagra taking E STREET BAND!

I have seen Prince, Bowie, Jagger, Bono and James Brown live but this guy, this likeable, sexy, charming, down to earth working class hero might well be the greatest live performer I have ever seen. Starting with a song written about the festival by Glasto's patron saint, Joe Strummer, he raced ahead as the audience barely kept pace. After a high-octane start, he left the stage probably a dozen times throughout the show to get down to the crowd, leaning in as far as he could without vanishing into the mass of outstretched hands. The songs are unadorned classic rock and roll but in truth, for most of the audience, there was little recognition of many of them.

The fact is that Springsteen is simply not a cultural icon in this country like he is back home. Your average rock fan in the USA knows a dozen or more of his songs whereas here that's simply not the case so for much of the audience, though the show was compelling, thrilling and masterfully performed, they didn't know the songs and that took the edge off. Never mind that it is impossible for the audience to match his energy - never have I seen a performer work so hard. During a quiet moment late on, he stood motionless before starting to sing and the cameras captured his silhouette, as steam rose off his body. It was a staggering moment.

But I can't deny that he should have chosen the setlist a little more carefully to receive the outpouring of love he's used to. Outside of his own fanbase, and remember he can still fill stadia here too, people only know Born in the USA and a few others so while I was enthralled I also felt aware that no-one knew the tunes. Classic material like Badlands, The River and Thunder Road would be greeted at an American festival with the same ardour reserved for his famous 80s hits. But here the crowd only hit the sky when he did Glory Days, Born to Run, Because the Night and Dancing in the Dark, as he kept working and finally winning everyone over, ending on the best encore of the festival. For me, the setlist was great - highlights being transcendent versions of Outlaw Pete, the Ghost of Tom Joad and Out in the Street, with particular worship heading for the magnificent Max Weinberg, Nils Lofgren, Steven Van Zandt (Silvio Dante no less!) and the ageless Clarence Clemons. But for everyone else, they were reaching for songs they knew and found only a few. Perhaps partly because of this, it became my second favourite show of the weekend when I had expected it to be the first. It wasn't Springsteen's fault but, on that form, in this setting and despite Bruce playing 10 songs more, Neil Young was never going to be topped.

Springsteen setlist:

Coma Girl/Badlands/Prove It All Night/My Lucky Day/Outlaw Pete/ Out In The Street/Working On A Dream/Seeds/Johnny 99/The Ghost Of Tom Joad/Raise Your Hand/Because The Night/No Surrender (w/ Brian Fallon)/Waitin' On A Sunny Day/The Promised Land/The River/Radio Nowhere/Lonesome Day/The Rising/Born To Run

Encore: Hard Times/Thunder Road/Land Of Hope And Dreams/ American Land/Glory Days/Dancing In The Dark

...