17/07/10 16:53 Filed in:
Gigs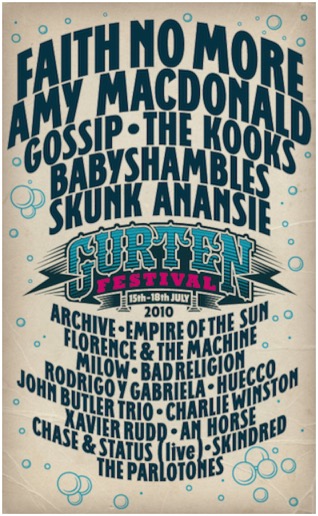 Due to the kindness of my friend Frankfrancois and his employer Couleur 3, the Swiss equivalent of Radio 1 and 6Music combined, I found myself with the unique opportunity to sample a day at a small European festival. With a 20,000 capacity the four-day Gurten Festival, located on a mountain in the Swiss capital Bern, was my first trip to a festival that wasn't Glastonbury. As you'd imagine, some is the same - much is different.
Firstly, it was on the top of a mountain, accessible only by a long uphill walk (I think not) or a cable car (yes please). Festival attendees are universal; they're all looking for the right weather, bands, facilities and vibe. Unsurprisingly, there was a large amount of beer being downed but still nothing compared to Brits, I'm embarrassed to say. Drinking is a sport in the UK; the only aim is to get as wasted as possible. As I surveyed the happy tipsy crowd, they were actually enjoying a drink without hurtling toward the final result, they weren't hoping to pass out on the grass or wear a volley of vomit as a badge of honour - they just wanted to have a good time.

At the bigger UK festivals performances come with a certain pressure. As TV broadcasts bring self-consciousness to some acts, the critics sharpen their knives as the seen-it-all main stage crowds wait for hits. At a larger festival you have dozens of stages and hundreds of acts to discover away from the main stage pressure but at smaller gatherings an intimate (for a festival) setting can often bring out the best performances.
I suspect many of the smaller European festivals are like Gurten - refreshingly unpretentious and free of the weight of expectation and media pressure. Not that the festival isn't publicised or given radio/TV coverage, but the attention is national, rather than international. Taking the pressure off further is that Gurten is the smaller relation compared to the legendary Montreux Jazz Festival, finishing up just as Gurten starts, and the larger Paleo Festival, taking place in Nyon, near Geneva, all this week. As a result, the bands clearly feel much freer than when they're under the make-or-break microscope at Reading/Leeds, V, Wireless, Isle of Wight, T in the Park, Glasto et al.

The performances started with British singer Charlie Winston, completely unknown here in the UK. His easy manner (a likable Jay Kay, if that's not beyond the realm of imagination) and unfussy songs recall Paolo Nutini. He's very popular in French-speaking countries, it would seem. It made me wonder how many other British singers there are plying their trade in Europe, achieving considerable success without anyone here noticing. A little cheesy but undoubtedly talented, he was a mildly diverting opening act in the burning sun.

It was at that point, as people looked to their show guides to see what was up next, that I realised something was different. With larger festivals the acts are on different stages simultaneously. People are made to make choices and, while they may go for a food/drink wander between bands, the crucial aspect is that not everyone is doing this at the same time. Not at Gurten. There were three stages, a small one with regional acts, a larger tent and the main stage.

As such, the acts in the larger tent and on the main stage were scheduled not to coincide. The advantage is that no one misses a band they want to see and a short walk between stages ensures you can see every band. This also means you can get to the front easily for any band, should you leave the previous one a couple of songs early. The negative side of this is everyone is doing the same thing, all the time. Everyone goes from one place to another, together. It's a little crazy. Massive queues for food and a bottleneck formed as everyone tried to get to the other stage for the next band. With limited space, it was a little difficult to move around but the crowds were so good-natured and friendly that you just went with the flow. As an aside, the loos were like luxury compared to what I was used to. Separate ones for men and women; toilet paper, even flushing! Partly, this civilised atmosphere is due to a lot of day tickets as well as campers. Since it's near the city centre many choose to come for the day and go home.

After Charlie Winston we made our way to see The Cribs. I saw them at Glasto a couple of years ago, out of devotion to Johnny M, and was disappointed. This time they were much better; good punk pop with better songs than I had remembered – or perhaps, their more recent album is a vast improvement. Pretty good but another band beckoned – we strolled back to the main stage to see Gossip.

Admittedly, they do have a schtick; Beth Ditto's southern charm and powerful voice connect with the crowd instantly and the minimal electro pop is well played with a fair few hits sprinkled throughout the set. Without guile, without self-consciousness, she is a supremely entertaining leader. The crowd was well up for it and bounced happily to Heavy Cross to close the show. You know what you're getting with Gossip but, I must say, I enjoyed the performance immensely. As evening turned to dusk, everyone rushed for food - a limited selection in truth but by then, a few beers down the line, no one seemed to care. We went for a little walk around the larger part of the site, browsing at the myriad stalls selling clothes and trinkets. We still had time for some heavy flamenco guitar in the form of Mexican duo Rodrigo Y Gabriela. They do get the crowd going, which considering no one knows the songs and everyone is simply recoiling in admiration at the musicianship is impressive. The last time I saw them they played songs by Metallica and Pink Floyd but we were keen to get a great spot for the real reason we had been so excited to come to Gurten: Faith No More. As such, we made a quick exit before the encore and rushed back to the main stage.

I'd seen Rage Against the Machine recently so it was fairly amusing to be faced with another band of my youth so soon. Quickly gaining a place at the front, I was delighted to see them appear, in matching lounge suits, and power into From Out of Nowhere. They had reformed a year before, playing festivals including Gurten, and you sensed that Patton had been on the road for long enough. As a man who creates as much unusual material as he does, you could sense his slight bitterness at the lack of interest projects like Lovage, Mondo Cane, Fantomas and Mr Bungle generate in anyone but his hardcore fans, compared to the collective muscle memory reception given to these 15-20 year old songs. Growling and throwing himself around the stage, but hitting every note, he was almost a parody, if an entertaining one. My companions, who had seen FNM the year before, said the difference was marked, in terms of his tiredness. I suspect the reunion will last long enough for him to fund his next project. Despite this, the songs have lost none of their power and he gave it his all, that's in no doubt.

Noticeably, rather than a RATM type collective, FNM are very much a band with one leader. Stage diving, he was lifted up to surf, only to be dropped several times, before he made it back to the stage expressing mock annoyance at the crowd for dropping him. Taking over a camera operator's job he fell again, only to get back up, headphones still perfectly in place. Daft and likable, he elicited a great deal of affection from the crowd.
Billy Gould, Roddy Bottum and Mike Bordin were animated and rock solid throughout, Bordin in particular being impressive, as always. Guitarist Jon Hudson, despite being on their last album, performed competently but came off like a session player, adding nothing in the way of stagecraft or passion. I would imagine he's in the band precisely for that reason - because he's no trouble. I can't see them creating a song like The Gentle Art of Making Enemies, also played, about former guitarist Jim Martin, about him. All the songs you'd wish for were played – Be Aggressive, Surprise! You're Dead!, Epic, Midlife Crisis, Easy and set closer We Care A Lot. It was a powerful, breathless show received by a rapturous crowd.

As the crowd dispersed to find more drink and then reconvened for Editors, strolling back a few songs in, I realised what a headlining-non-headliner was. Everyone had used their energy on FNM, which felt like a headliners set – a lukewarm reception was all they had left, and wanted, to give. Considering their well played but ultimately fairly dull songs, fronted by a third rate Ian Curtis tribute singer whose voice could put you to sleep, this was no surprise. By then, at nearly 2am, my legs ached and, having not slept for a couple of days, I was ready to make an exit and leave the masses to their all-night party. Off we went, a crush for the cable car down reminding me that Germans (even if they're Swiss) aren't big on forming a queue. It was a unique experience and one that I would be happy to repeat.
...