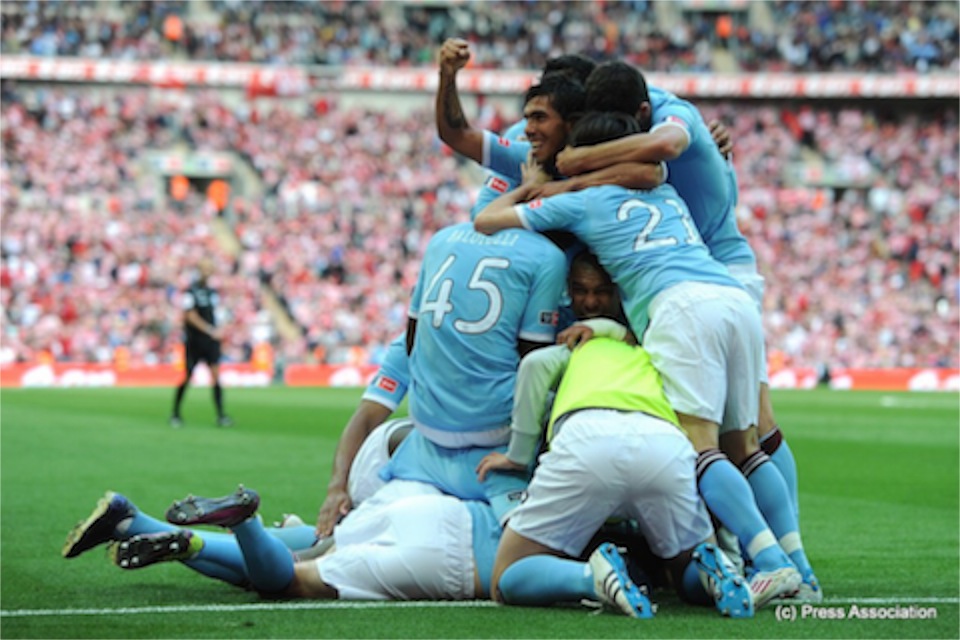 I'm a 3rd generation Man City fan. My late grandfather, Eli Tray, went to the first ever game at Maine Road, in 1923. We won the FA Cup in '56 but dad never saw it – no TV! My grandfather took my dad, aged 10, to his first match in 1960. Due to having to leave school to help support his family, he got a job in Burton's Menswear in Deansgate, Manchester, in 1965, working 6 days a week, including Saturdays, and almost never got to see the great City teams of the late 60s/early 70s. He'd go to the odd away game but missed the glory years, including our title-winning season of '68 and our last FA Cup win in '69 against Leicester.

I've seen the old footage; the scorer, Neil Young (no, not that one, he didn't moonlight between CSNY gigs!) fired in a Summerbee cross and won us the cup. Neil, Manchester born, was of the old brand of players – he never earned much money and when his career ended he battled alcoholism and depression, finding work as, variously, a milkman, a supermarket worker, sports shop manager and insurance salesman. Diagnosed with cancer at the end of 2010, the club stepped in to pay his medical bills. He died in February. The cup run was dedicated to him, including a poignant match against '69 Cup finalists Leicester where the thousands of away City fans held a banner and stood in silence in the 24th minute – the minute he scored the '69 winner.

We won one more trophy after that, the League Cup in May 1976, 5 months before I was born. After years of missing the games, in 1978, 2 years after I was born, dad stopped working Saturdays and bought a season ticket. He tried to shield me from the misery of being a City fan, and who could blame him? His dad passed in 1979, so I never got to know him or what a proud Blue he was. His season ticket purchase heralded the start of a pathetic decade for the team but I had the bug, I had the genetics, and that was that. In the early 80s I found my first favourite player, Paul Power, now one of our Academy managers. Dad went to the FA Cup semi against Ipswich at Villa Park in '81, and watched us win. He went to the final shortly after, standing behind the goal, as Hutchison's own goal took it to a replay. The replay was on a Thursday night, and he couldn't get the day off work. But he couldn't bear to miss it either, so, despite having Springsteen tickets for the night of the game, he stayed home while mum went to see Bruce and watched us lose to Spurs. He said he'd stayed in because he didn't know when our next final might be. He was right – it was 30 years.

Despite the 80s being a shocker of a decade for us, I persevered, my youthful enthusiasm trying to pull him out of City darkness. He tells me that every second Saturday I'd see him at the bottom of the street, coming back unhappy from Maine Road, and I'd run to him; he'd pick me up and I'd say 'don't worry dad, we'll win next week!' I had no idea of the decades of misery that I was, that we were, to endure. In 1988, when I was 11, my grandfather, Cyril Clark (mum's dad), who had been both a United and City fan in the 60s, which was possible then, took me to my first match at Maine Road, a reserve game against Liverpool. His split loyalty went back decades. He'd lost a friend in the Munich crash, a factory (and racecourse) owner who his dad had worked for, and started going to see the blues one week and the reds the next, though his heart lay with City in his final years. I can still remember that day, walking up the steps to be greeted by the huge green expanse of pitch; it felt so special, like I was where I was meant to be. In the early 90s, my dad's best friend, Martin, a United season ticket holder, took me to their training ground to meet the players, including Hughes, Ince, Giggs, Bruce, Pallister and Schmeichel. He tried to convert me! I did quite enjoy the trip and felt a little confused for a short while (maybe a week!). A couple of years later he took me to Old Trafford and I started to wonder. What if I felt something? What if I loved it? I needn't have worried. I sat there, feeling like an outsider. I felt nothing. These were not my people.

By the early 80s, grandpa had gotten a season ticket too, so he and dad went together – with a flask of coffee, they braved the terrible quality on show and stuck with the team, as you always do. We were relegated in '82. In those days, if my grandfather couldn't go, I might even get his ticket. He passed in 1990 and going to the match without him just wasn't the same for my dad. He stuck it out for another 5 years, during which we went many times together, including on my 21st birthday where I was overjoyed to have my name read out by the stadium announcer. But he gave up his season ticket, because of price and because getting those two buses to Moss Side from our house in Crumpsall just got too hard. I'd always said to dad, when City gets to Wembley we'll go together! What did I know? We were never good enough to get there. Then, when he gave up his season ticket, he couldn't bear to tell me that even if we did get there we'd never get tickets because only season ticket holders get them. We were relegated in '96, then again in '98, dropping to the 3rd division, a new low. The game that sent both our opponents and us down was, ironically, against Stoke, who we beat to no avail. We lost games to Lincoln and, worst of all, at home to Bury and scraped past teams like Wrexham and Mansfield in little provincial grounds. It was depressing and humbling. I was at Bury College at the time and, I can tell you, that was a long Monday after we lost to Bury. Even at that level, we were getting an average gate of 28,000 at home. The next highest gate was, ironically again, Stoke, with about 10,000. It took them a few years longer than us to get out of that division. This was the same season that was United's most successful ever – it was tough to watch them win the treble while we toiled in the lower leagues.

After a hard season, we made it into the play-offs. On Sunday May 30th 1999 dad and I watched the game against Gillingham, the 3rd division play off final, in United fan Aron's house. Despite our differences, the fans of both teams are always connected – at work, at home, at school. Aron cheered and I wept as we clawed our way out of the division, Dickov and Weaver the heroes. Dad leapt dramatically off the sofa when we equalised in the 95th minute and then won on penalties – a game that changed the future of my club forever. The year after that I moved to London. I go to as many London away games as I can and, once a year, on Boxing Day (or the 28th), dad and I attend our annual City home game together when I visit for Xmas.

It's all I've ever wanted – to walk down Wembley Way with my dad. I don't dream of winning the Premier League and I never dream of winning the Champion's League. Just a Wembley cup, that's my dream. Disappointment is such a familiar feeling to us, it's what I've had my whole life. When we got to the final I knew we'd never get tickets and dad said it was ok, we hadn't watched any of the cup run together and he didn't want to jinx it. We get a bit superstitious with football! In the week leading up to the final I didn't sleep much. How would I deal with losing? Up to that point I'd just been happy, thrilled actually, to even be in the final but now the game was a few days away I wanted to win it. It could have been worse, we could have been playing Chelsea, but our record against Stoke was really poor. By 2pm dad and I had been on the phone half a dozen times, winding each other up in nervousness. It's the build up that kills me, I just wanted it to start. Matt arrived just in time to calm me down before the game started and we settled in to watch it upstairs – couldn't watch it in the living room, since I'd watched the semi in my room. No tempting fate for me. Having him there actually chilled me out; I was a bit frenzied but didn't want to appear like a total nutter so dialled it down a bit. No calling dad during the match, that's our deal, unless we're losing.

Amazingly, we were playing really well. Couple of great saves from their keeper. But I've been there before. Seen us play well and lose, more times than I can count. Half time, glasses of whisky, the cigarettes started piling up in the ashtray. We talked about football, work, a gig I'd seen the night before, the Olympics, and a hundred other subjects and it was just what I needed. Second half and the same pattern, one chance for Stoke; Hart did his job and closed the striker down. Nerves were rising again, and then in the 74th minute a neat little move – Tevez to de Jong to Silva to Balotelli, a neat back heel, a blocked shot and then… the semi-final hero, Yaya Toure, appeared and smashed the ball into the net in a flash. No stopping that. We exploded! The fans were going mental; I was punching the air, and that most pure feeling, the scoring of a goal, knocked me down. What feels better than that? But of course that meant 15 minutes of nail biting and, I tell you, those 15 minutes felt like years. The slowest ticking clock of all time. Three minutes of injury time. Please please please, let me get what I want, this time.

Whistle. All over. The room started spinning. Tears came to my eyes. We hugged, we shouted, the screen was a blur of blue happiness, crying fans. There were little kids who'll never know what it was like to want and need and desire and beg for years on end. There were teenagers who joined up hoping for more than their dads had received. Their mums and dads, my age, wept after 30 years of getting nothing in return for their devotion. The guys in their 40s who just about remembered the '81 Cup Final couldn't believe how long ago it felt. The fans my dad's age – priced out of their season tickets 15/20 years ago – this was for them. We had to sit and watch while United won a dazzling array of trophies, while our team descended in relegation after relegation. The older fans who remembered the good times; the ones my age who've never known them; the kids for whom this will cement their love of the blues forever. I called dad, both of us in tears; I had to give Matt the phone because I couldn't talk.

My team. My shitty team went and won something. The first trophy is the best. Who knows if there'll be more, but these players and this manager have changed the club's history forever.


...