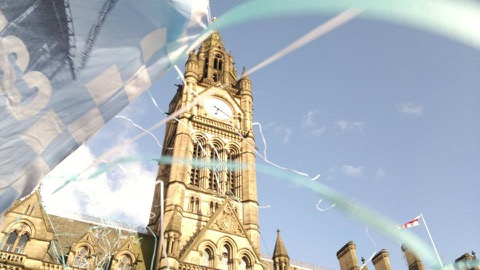 By anyone's standards, the last few days have been groundbreaking and historic. Where to start? I see I haven't written anything in this blog for a year, I can't say why really, perhaps I've just not been feeling the writing since last summer. Anyway, doesn't matter: this one is certainly full of incident. So, it's a football blog, but it's really more about family, as football always is. It's about my dad, my team, civic pride, community, togetherness, and feeling connected to total strangers. Best of all, it has a happy ending.

How many years have I had to take shit from Manchester United fans? It started when I was a kid, one of three City fans in the school. At least it seemed that way, there may have been a few more, but they wanted to avoid being mocked so they probably kept quiet. This was in the late 80s through to the late 90s, a period where the reds had started to win every trophy going and the blues were hiding in the corner, with a collection of comical mishaps in our recent past – awful players, inept management and increasingly bitter fans. The United and City paths had been similar, pretty much, and then started to diverge wildly in 1990 when United won the FA Cup, then bagged a European title in 1991, and then in 1993 collected their first Premier League trophy for 26 years.

And the years came and went and City got worse and United got better (and spent plenty of cash on players incidentally, throughout) and the jokes became more painful and the relegations started. The phrases 'Typical City' and 'Cityitis' were invented, to describe our state, which you had to laugh at, otherwise you'd cry. We were a laughing stock, a once-great club reduced to rubble, patronised and ridiculed in our own town. On the rare occasions where we'd play United we'd take our beating in good humour and go slinking back to our corners. This was my life: my youth, my school years, my teens and my twenties. The final indignity came in 1998, when we were relegated to League One (the third tier of English football) and scrambled for points at teams with tiny followings, who welcomed us with glee to their grounds like it was their cup final. Humiliations aplenty followed, which included a defeat to local club Bury, who got the result of their lives by beating us 1-0 at Maine Road. As a student at Bury College, at the time, I don't have the words to describe how painful that Monday morning was.

But we fought, and with an inspirational captain and leader, Andy Morrison, whose book I later edited, we ground out results and got to the play-off final, where I witnessed the single greatest football moment of my life in my friend Aron's living room. Aron, a rabid United fan, cheered right along with dad and I, never thinking I'm sure that this lowly team would ever rise up to challenge his. A few days earlier United had won the treble of course (Premier League, FA Cup, Champion's League) and held a victory parade through the city centre, where they flaunted their hard-won trophies. City were too embarrassed, understandably, to make much of a fuss about winning the third tier play-off final and shuffled off to toil some more. I remember thinking: what would it be like to go to such a parade? To be so proud of your team, instead of having them disappoint you all the time?

Our League One support had remained strong, with average crowds of 28,000 in that season, but we all knew how important Dickov's goal was – it changed the future of the club forever. We got promoted again the year after into the Premiership, and then relegated again the season after that. I resigned myself to forever loving, unendingly, with passion and heart, a team who might escape relegation, or even become Premiership mid-table, at best. After the Commonwealth Games in 2002 was over we leased the newly built stadium in East Manchester and made our move. At first, the place was cold and empty, and even now suffers from atmosphere issues, as all big new open stadia do. It had no history. But what were we mourning? We hadn't created anything at Maine Road worth remembering since the 70s. We bounced up and down between Premiership and Championship (second tier) and then finally attained some kind of stability, thanks to a shrewd businessman, and lifelong City fan (and now FA Chairman), David Bernstein. We got so desperate we let a former Thai prime minister, Thaksin Shinawatra, who was a criminal, take control of the club in 2007. He spent a few quid, and we did ok with Eriksson as manager, but it was always doomed to fail. And then, somehow, in what might be called the greatest bit of tourism PR in history, an oil-rich sheikh went and bought the club in September 2008. This fella, Sheikh Mansour of Abu Dhabi, a member of the royal family, just suddenly decided he wanted to put his country on the global map, having seen Dubai start to dominate as the Middle East destination of choice. Apparently, he fancied Everton but lost interest as soon as he saw their stadium. But ours, yes, he liked it. So, we became a billionaire's toy.

And believe me, no-one gave a shit about the money, the issue of so-called 'selling out' – partly because we were desperate, and partly because the owner was a crook and we wanted rid of him. It became clear very quickly that Mansour was a very different person from Chelsea's Roman Abramovich, the previous big-bucks club owner, who had spent half a billion on Chelsea. The sheikh lived in Abu Dhabi, didn't move to England, didn't interfere in transfers, didn't tell anyone how to run the team (Abramovich, it should be noted, does all of these things and more) and in fact didn't even come to games (though we're told he watches every minute of every match). Instead, he gave the Thai villain's managerial choice, Mark Hughes, a chance and installed a very smart, Boston-educated businessman called Khaldoon al Mubarak to be the chairman and run things. Hughes wasn't up to the job, we all knew, and sure enough he made a right mess of things, spent wisely on only half of his targets, and was replaced (in a badly handled transition) by Italian Roberto Mancini, a ruthless but fair tactician who, following a glittering career as a striker, had built teams at Fiorentina and Lazio before assembling Inter Milan's side, which went on to win three scudettos in succession. Mancini is, one might say, a control freak: he does it his way or out you go. With his players - he's not their mate, like Keegan was; he's not there to kiss their arses or hug them if they're feeling down; he's there to win, and if you don't like it you can leave. Or, if a player behaves badly and apologises, he'll wait for them and then wipe the slate clean. Hard but fair, always. In his first full season we won the FA Cup. I never thought I'd be so happy again, and then came Sunday May 13th 2012.

We've been the best team in England this season, and we've scored more and let in less than our nearest rivals, who just happen to be our lifelong bullies Manchester United. We've spent money wisely, we've weathered storms of all types (including player misbehaviour, to put it kindly) and we came back when it looked like we'd bottled it in March. After the Arsenal defeat on April 8th, at which time we found ourselves eight points behind United, all I heard was how they've been here before, they've got the experience coming into the final month, and that they'd see us off just like they had everyone else. Well, not this time. While they are still a very very good team they are not the force they once were. They saw the whites of our eyes, coming up fast behind them and, like their fans, they didn't know how to handle it. So, they panicked while we won six in a row. We won't be brushed off so easily now. We spent money fast and improved faster and they aren't going to have everything go their own way any more.

We started to eat away at those eight points. And again, I heard about their manager, Sir Alex Ferguson, being the master of the mind games, letting no other manager best him. And then he went up against Roberto, he cracked up on the touchline at some perceived slight and got up in his face at the home derby and, instead of backing away, as all managers do when confronted with the red-faced grandfather of them all, the greatest club manager of all time, our fiery Italian manager went toe-to-toe, snapping back at him. It was a watershed moment – you will not push us around anymore. You will not bully us. Everything will not go your way. We are not your inferiors, your rivals to be patronised, no longer. We won the derby and our celebrations were muted – we did a job we had to do, we have more in our sights now than just beating United. By then, United had already crumbled to a defeat at fighting Wigan (which I predicted) and slipped to a crazy home draw with Everton after leading by two goals, twice (which I had not). After a sleepless night I watched us play like champions away at Newcastle last weekend, the goals scored by the colossus that is Yaya Touré, who had also scored the winning goals in the FA Cup semi and final last year.

And so, to the final game of the season: home to QPR, managed by Mark Hughes, the man shifted out. He held grudges, it was said, he wanted revenge, which he denied, and he was an ex-United legend. It was all set up for Cityitis, for Typical City to screw it up. We very nearly did. We should have won the title a month ago, but we choked, and then United choked, and now it was all down to this one game. We couldn't win it 5-0, that's not how we do things. We must drain out the last drop of nerve-shredding stress from every fan that has waited 44 years for this moment. In 1968, the last time we won the league, my dad was 17, and he missed the winning game because he was working and had to read about it in the Football Pink (a Manchester Evening News supplement printed one hour after the match ended). He's now, he won't mind me saying, 61. When I was a kid, I would run down the street to greet him as he returned from every miserable home match. One year I said, 'dad, will you shave your beard off if City win the title?' I'd never seen him without a beard, which he grew after his father died in 1979. He laughed and said yes – I promise you; it was a safe bet back then. He said to me yesterday that he'd said yes because at that time there was more chance of him becoming Pope than us winning the title.

Both he and I had been more than nervous before the QPR match – for a week, I'd barely slept. We were both totally out of our minds. We had put so much into this. Just one win against struggling QPR was all we needed. We had the same points as United and they'd need to win by 10 goals if we both won. Considering how much better we've been than everyone, United included, this season, I wasn't thrilled about it going to goal difference but never mind that, I was ready to take it. It's said that City fans are obsessed with United. This is true. I guess it's to be expected if you share your lives, your workplaces and your schools with them every day. I've been outside of that for 12 years now, having left Manchester in 2000, and I care far less about United than most blues do. It'll always be that way back home, I suppose, since we share the city. But now they're wondering if they're looking at a coming era where they'll soon feel how we've felt for the last 20 years.

The match was tense, and we had all the play but couldn't break through. Yaya Touré's last act of the season, before leaving the pitch at half time with an injury, was to set up Pablo Zabaleta for the opening goal. I was cautiously happy but I feared what was to come, without our midfield lynchpin. The second half began and the fans roared but the Cityitis tension grew, and then QPR scored twice. Doom enveloped us all, overwhelming crushing darkness. For 25 soul-flattening minutes we all just stood/sat where we had watched/listened to the matches all season, gaping in horror: the fans in the ground, dad on the bed listening to the radio (where he can see the stadium from the bedroom window) and me watching the match illegally on my laptop. We were going to screw this up, consign ourselves to a tag of history's greatest chokers: we would never recover from this. United, despite being an average team, and desperate enough to have a midfield three with a combined age of 108, were going to win a 20th title. Worlds turn on such moments. I would have cried if I hadn't been so numb. I got up from my chair and went to lie down on the bed. I stared at the ceiling. After all this stress, we weren't going to do it.

But much like in that Gillingham game, when Dickov scored that club-saving goal, the universe realised that we had had to take enough of being shit, being maligned, being lesser than. In the 92nd minute our hard-working and determined striker Edin Džeko scored to equalise. But I didn't move, it felt even crueller, to be one goal away from the title. United's game finished, they had won their match and were ready to start celebrating. Thirteen seconds passed between the end of United's game and what happened next. Before another thought could even get into my messed-up head, the commentator started screaming. AGUERO!!!!! GOAL!!!!! With the last kick of the season our handsome, talented, absolutely no trouble, striker Sergio Agüero , the son-in-law of Maradona no less, made time stop as he skipped round Nedum Onouha (QPR defender and lifelong City fan) and decisively blasted the ball into the net. Off his shirt came and absolute hysteria erupted . I jumped off the bed, sank to my knees and started to cry, simply praying for the final whistle. One long minute later, we were champions of England.

My phone lit up like an Xmas tree, and I talked to some friends through sobs. I called my dad. We shared our total disbelief of what we had just heard/seen. We were simply and genuinely in shock. This doesn't happen to us, this kind of blinding triumph. We're famous for getting it wrong, for falling down, and we always lose. United always have the last laugh. I was delirious. Without thinking, I booked a train ticket to Manchester, after calling the local radio station and confirming that the victory parade was on for the day after, and just floated to Euston. I was home in time for Match of the Day, which we watched half in joy, half in tears. I met dad at 4pm the day after in town and we got a spot among our fellow blues in Albert Square, in front of the Town Hall, a most stunning building. We were with our people. I've never seen so many scallies in all of my life. Yes, they're chavs, but they're my chavs! There were babies, toddlers, little ones, teenagers, students, mums and dads, middle-aged couples, pensioners – to a man, woman and child they were in joyous shock. Everyone had their match-day tale. For the players, it looked like this . To my eyes, it looked like this:



like this



this




this



and this.



Truly, it was one of the best days of my life, of our lives – to share this with dad was unimaginably special and momentous. We dragged ourselves home, and I was so excited I actually tripped and fell up my own front steps. But that was it, the day that marked the end of Cityitis, the day that consigned Typical City, always screwing it up, to history forever. And yes, dad is going to keep his word on the beard bet.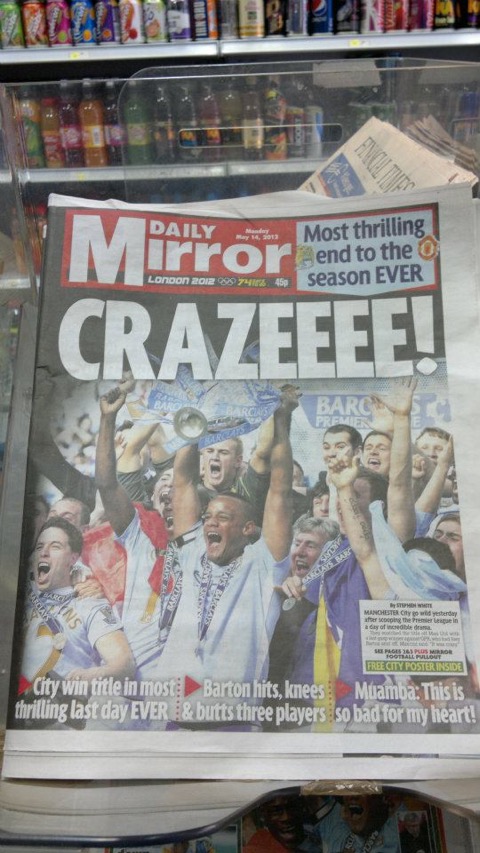 So, exhausted, I got the train home this (Tuesday May 15th) morning. But that's not even the end. I had a reserved seat, but for some reason kept walking and sat one coach down, for no particular reason. With 10 minutes to go of the journey, I got up and turned towards the rest of the carriage.
My gaze alighted on two very handsome men sitting two seats behind me. And then I had this moment. My City shirt registered on his face, which broke into a warm smile of recognition, my brain registered that I knew him and in a split second I realised that it was Kolo Touré, the City defender, who was looking back at me, sitting next to his youngest brother Ibrahim. Not all footballers are the same, and from the press you'd sense that most are boorish drunken hooker-shagging oafs. This guy, from the Ivory Coast, a civil-war-torn country, has always been different. He has always been a model professional, and he has always behaved in the correct way. Last year he made a mistake: he was so worried about his weight (despite looking like a Greek statue) that he took his wife's diet pills, failed a drug test and was banned for six months. He took it on the chin, apologised (even though the team doctor had told him the pills were fine to take), never complained, and worked his arse off to stay fit. After his ban ended, he returned as a squad player, and was welcomed back with open arms. Fellow defender Joleon Lescott had usurped him in the team, taking his place in his absence, and he never complained. His younger brother Yaya had become the team's heartbeat, totally overshadowing him, and he never complained. He never went crying to the press, and he never banged on the manager's door demanding why he wasn't in the team. When our majestic captain Vincent Kompany was banned for four games he slotted into the team and held the defence together. When Kompany returned he again went to the sidelines, and he never complained. When Lescott was injured, without a word he took his place and played superbly. When Lescott was fit, he lost his place again and he never complained. He is a team player.
So when I saw him, it didn't occur to me to do anything but what I did. We exchanged a look of two people who, despite not knowing each other, had been through something together. I held my hand out, and he shook it. I burbled something – I think I told him how long we had waited for this moment, how old my dad was when we last won the title, how old I was and how I thought this day would never come – and I looked him in the eye and just said thank you. You don't know what this means to me, to my family, to all of us. He was kind and gracious. I shook his hand one more time, thanked him again, and walked down the train. Imagine that, to get a chance to personally thank a hero: I will never forget it. I called dad immediately, who was incredulous that I'd met him and that he hadn't been sitting in first class. I then bumped into a guy who said 'Did you see Kolo? He's in that carriage, in standard class?!' Footballers are reviled, honoured, worshipped, envied and hated. They're millionaires, and we're surprised when they behave like human beings. This last couple of days I've seen players strain every sinew to do something for fans like me. I don't give a fuck how much they're paid or how much we've spent. They did this for us. And today, the city is ours.
...

photo by Mark Makin


A young Manchester lad, aged 15, went to see a concert 40 years ago today. He had asked a friend to get tickets for Bob Dylan at the Free Trade Hall in Manchester. The friend had not managed to get anything in the main, seated, floor, nor the balconies. Instead he had somehow gotten hold of platform seats.

These consisted of 2 rows of chairs behind the band. Or, in this case, The Band. With excitement and trepidation he and his friend Casper went to see Dylan perform. He had played the year before in 1965, drawing rapturous applause and plaudits. He simply strode on stage, all curly hair and leather jacket, acoustic guitar and harmonica, and played his own kind of folk music.
On that trip, following a meeting with the Beatles, he had become fascinated with electric guitar and had bought one in London. Upon returning to the US he employed Ronnie Hawkins band, The Hawks, and had renamed them The Band. In 1966 he returned to Europe with this band and the reaction was one of disgust. He was booed repeatedly, every night. The first half acoustic set went down just as in '65 but when 5 musicians appeared with him the appreciation turned to anger. The effect on Band drummer Levon Helm was marked. He decided he couldn't handle the abuse any more and with Bob's permission left the tour completely, to be replaced by Mickey Jones. Though everyone had become demoralised by the audience disapproval, the fans of folk appalled at Dylan's traitorous betrayal into the world of electric music, they soldiered on. On that day, May 17 1966, they played in Manchester. The young 15 year old took his place seated behind Dylan, to stage right of Jones's drum kit. As with all the other gigs the first half went very well.

Then, the interval. Again, murmurs spread of the electric second half. The Band were very loud indeed and Dylan's new songs pierced the auditorium. Some sat in shock, some cheered, some booed. One foolhardy young man on the main floor waited until a quiet moment arrived to shout possibly the most famed heckle in rock history - "JUDAS!!!" Instantly, Dylan approached the mic stand - "I don't believe you", he drawled, with some anger, "You're a LIAR!" Then he turned to The Band and said something only heard clearly on the recent Scorsese documentary... "Play it fucking loud". The band tore into Like A Rolling Stone.

Dylan was clearly angry at his audience's lack of tolerance. But the gig was electric. Later on the gig was wrongly released as 'Live at the Royal Albert Hall', a venue in London. But Londoners cannot claim this piece of rock history for themselves. Manchester has always been the cooler city - from the Judas concert to the Sex Pistols first gig a decade later: attended by everyone from The Buzzcocks and Morrissey to Warsaw (later Joy Division) and Howard Devoto. We always see the truth first. Over the years many people have claimed to be the Judas shouter. Who knows who he really is... the gig and his call found their place in rock history and I'm proud to say it all took place in my home city.

Forty years ago today the 15-year-old Salford lad behind the drummer shifted uncomfortably in his seat, unwilling to make eye contact with anyone on stage. He wasn't sure if Dylan was going to storm off, he wouldn't move a muscle for fear of what might happen. It was a moment that he remembers 40 years to the day later. I know because I spoke to him this morning – my dad. And he remembers every detail. And if you look closely at the photo above you can see him, arms folded, just peeking out from the amp on the right, with the glasses on. His friend, to this day, Casper sits next to him with suit and tie on. Both of them look terrified. But it was a day neither of them will ever forget.

www.dylansal.colsal.org.uk/
en.wikipedia.org/wiki/Free_Trade_Hall
www.bobdylan.com/albums/live1966.html

...