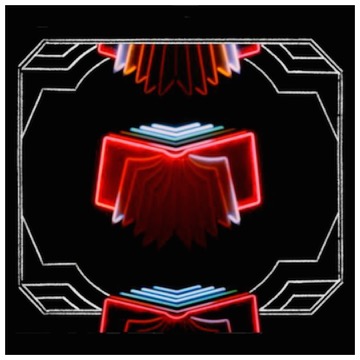 It's common, expected even, for albums to be reviewed after a single play. Tales abound of cadres of journalists who are ushered into dank walled rooms, given a press sheet, a one time listen of a new release then booted out unceremoniously and expected to create their opinion with haste. It's been said that Prince will not allow tape recorders in the room when he does one of his rare print interviews. One can only imagine that worry at misquotation is lesser than his desire to create a one-off artist/interviewer interaction. Apocryphal tales are built this way. For most albums these methods work in theory but, with that in mind, it's impossible to envisage a review of the currently on release Neon Bible, the second album from Montreal septet Arcade Fire, being done justice with a one-play review.

If I'd had to review it after one listen I imagine mine would have been somewhat like Rolling Stone legend David Fricke's in tone. Reading his 3 1/2 star review, it's certain to have been done after spending a mere 50 minutes in the company of this band. I confess that on first play I was under whelmed too. The songs didn't leap out at me as debut Funeral's had. I sat quietly after the first play and considered the nature of the modern music product versus the relative attention span of the listener. In eras gone by, albums were called 'growers'. My parent's generation might have fallen in love instantly with an album like Revolver but they would have to work hard at material like John Wesley Harding. Shouldn't great albums, work that lasts, demand repeated plays? If you can get a full sense of an album on only one turn I'm not sure it's going to last in the great pantheon of work. I appreciate Oasis. They are one of the great British bands of their time and I own each and every one of their releases but their albums have a puddle's depth. And, aside from the first two, I have felt no desire to listen again to the rest of their discography.

In that spirit, I felt the calling of Neon Bible, an album that implores you to play it over and again. There can be nothing that affirms your love and passion for music more than a release that you sense holds great depth, a shining silver circle begging to be swallowed by a music system that does it justice. This is a dark album, a gothic record in the traditional sense, and it demands attention. I fell for Funeral after a Bowie recommendation but I had no right to expect such a grand leap forward for the follow up. It's a sumptuous, lush, complex album. It crackles with indignant fire on 9/11 inspired track Antichrist Television Blues. For Ocean of Noise you float on a cloud above your bed as if you've woken up in a Michel Gondry film.

There's a signature Arcade Fire sound: a crescendo of music, as a driving, determined song builds towards its zenith and explodes finally into release. It's a joyous feeling when it happens and it's never better demonstrated on No Cars Go, itself a reworked version of a track on their 2003 self-titled debut EP, and Keep The Car Running. Album closer My Body Is A Cage is a sombre, powerful, organ-laden triumph, a song that aches your heart and mind. There are few other bands currently able to pass such a musical current through your body. This collective and the mind-bending array of instruments they're able to call upon have created an album of immeasurable beauty. It's not only an album I don't see beaten easily in the Album of the Year rush at 2007's end but it's a piece of art that may not be bettered in their careers.

...