20/04/08 18:58 Filed in:
Films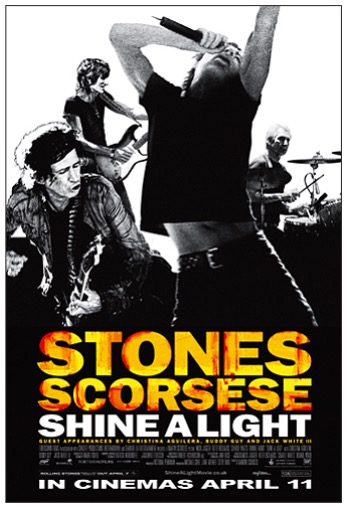 In 1965 my mum went to see The Rolling Stones. Brian was her favourite. She always liked them more than the Beatles. She was 13. She saw them again in 1967 and again in 1969 at Hyde Park, their tribute to Brian and first show with new guitarist Mick Taylor. The Stones have always been an important band in our house - with dad preferring the Beatles I always felt half way between both bands. The Beatles mean as much to me as they ever will, I couldn't possibly love them more than I already do. But for some reason, probably because they're still around, my love for the Stones has grown over the years up to the point where I can honestly now see them as my joint favourite band with the Scousers.

In 1990, when I was 13, the same age as mum was when she saw them first, she took me to see the Stones at Wembley Stadium. As I gazed upon Keith's weatherbeaten Sid-James-looking visage I knew this band would be with me my whole life. I didn't anticipate growing up with them as mum had but that's what's happened. They are, arguably, now a better band live than they were 20 or 40 years ago. I put a fair bit of this down to the recruitment of the masterful and solid bassist Darryl Jones (born the year before the first Stones single Come On was released), who earned his apprenticeship playing with Miles Davis at age 22, which must have been quite a baptism. He gives the band a kind of grounding that they've never had before and Charlie seems more at one with this jazzman than he ever could have been with Wyman. I saw the Stones live again in 1993 but not since - I simply can't blow a hundred quid on a bad seat in a stadium, on finance and principle. I have a wealth of material at home on film, though nothing compared to a real Stones collector of course. But from 25 x 5 (VHS only, it's never come out on DVD) to the Double Door to Four Flicks, Bigger Bang, Gimme Shelter, Sympathy for the Devil/One Plus One, Cocksucker Blues and more, I've got the cornerstones of their career to hand, the visual markers by which one can trace their history. I will soon add to that the tremendous concert film Shine A Light.

There is no other filmmaker who understands the Stones as Scorsese does. Mean Streets, Goodfellas, Casino and the Departed all featured their music to great effect - Jumpin' Jack Flash in the first, Gimme Shelter in the others. And with his recent masterpiece of Bob, No Direction Home, he was the only choice to capture this small show at the Beacon Theater in New York. It's essentially a live concert film with a number of interwoven news clips of them being asked the same dull questions about how long they can keep on going for going back to the 60s. These clips are comical, provoking much laughter from the audience, especially in response to Charlie, ever unimpressed and nonplussed by the swirling circus around him. As you watch it you realise what odd lives these four extraordinary Englishmen have had and continue to have. Mick is the businessman, he was ever thus. Keith is on a constant quest to bring out the sincerity from his old friend, knowing that the real Mick is in there somewhere. He stops Mick from becoming too much of himself. All the while practicing the 'ancient form of weaving', as they call it, with Ronnie, always the most positive, excitable, force of togetherness in the Stones camp.

Scorsese does a magnificent job with the limitations of what I feel was probably not the best venue to set the show in. A fundraiser for a Bill Clinton sponsored charity the show takes place in front of the kind of corporate crowd you might expect - businessmen at the back doing a self-conscious head-bob to the songs they know while their 20-something trophy girlfriends swoon adoringly on the front rows at this grandfather on stage, his perfect washboard stomach pulling focus. Dad and grandad he may be but every woman in that theatre would go home with Jagger without pause. Surely a knight of the realm has never shaken his behind so much? Mick is simply extraordinary; cheeky and charming, his voice as strong as it was before I was born, his powers as a frontman undimmed.

Because of the size of the venue and the need to light it effectively, it almost has the feel of a TV show rather than a gig, which seemed to be the band's fear before filming started. Scorsese's previous rock concert film, The Last Waltz, was shot in the cavernous Winterland Ballroom in San Francisco, a venue wide enough to hide cameras in behind the band and, due to a spectacular set of chandeliers, easy to light without anything looking added or contrived. That was Scorsese's choice - you would only see the audience from the back of the stage for a few brief moments. Other than that, there were no audience shots at all, which put the viewer inside the gig. This Beacon show has altogether too much audience in it, though that's a minor quibble. What delighted me was the setlist. It contained, as it had to, some of the classics you'd expect to hear but also a fair few obscure album tracks. I jumped in my seat as All Down the Line and Loving Cup (the latter with a beaming and brilliant Jack White duetting) from Exile made their appearance. And the two ends - youth and experience - of the Stones spectrum made their bow too - exuding sex, as ever, was Christina Aguilera, doing a fine job on Live With Me. Their roots got the nod with the evergreen Buddy Guy on Muddy Waters song Champagne and Reefer. In the cinema I was surrounded by people my parents age, my age and kids in their early teens and younger. Their parents coughed nervously at "bring me champagne when I'm thirsty, bring me reefer when I want to get high" as I chuckled. I noticed the super filthy lyrics of Some Girls got a snip, which was to be expected I suppose.

Sheer energy carries the film along with considerable ease as band and filmmaker rise to the occasion and beat the venue. Mick in particular is on fantastic form, barely able to contain himself as he shows the trademark energy levels that put men a third of his age to shame. The camera spares no-one and rightly so - these men look in their 60s and they couldn't care less. There is no attempt to soften the lens, no careful shooting of the ravages of time. Every canyon-like wrinkle was proudly displayed on the 40 foot IMAX screen I was watching it on as the battle scars of decades of hard living came into view. Odd as it sounds, it's Keith's childlike joy that comes across clearest of all. On that famous face is a permanent grin, the sheer happiness and contentment coming from a man doing exactly what he wants with his life. A sensitive, passionate, warrior gypsy, Keith is the heart of both film and band. Against all odds, he is going to make a fine old man. His playing has hardly been better, as he says in an interview segment - "Both me and Ronnie as guitarists are pretty lousy but together we're better than ten others". Even the supporting cast have put in the years - sax legend Bobby Keys has been with the band since 69, keyboardist Chuck Leavell since 82, Darryl since 93, vocalists Bernard Fowler and Lisa Fischer since 89, keyboardist/guitarist Blondie Chaplin is the novice of the band having put in a mere decade of service.

In the 46 years since their first single, a Chuck Berry cover, they have seen off hundreds of bands and they are still standing. It's quite something when the definitive concert film of a band can be made when they're not at what is supposed to be their peak, the 1960s, but in fact when they should be collecting their bus passes. Mick once said that he never believed having a good time was something only for the young. But as they say, what else do they know how to do? Every few years the call that everyone expects will come and it's time to go on tour. Their back catalogue is unsurpassed and, as the sparks fly off in all directions, they can still deliver the best rock and roll show on earth.

...